IN CONVERSATION WITH LEAH MULLARD, WILD BEAUTY'S HEAD OF SALES
Posted by TEAM WILD BEAUTY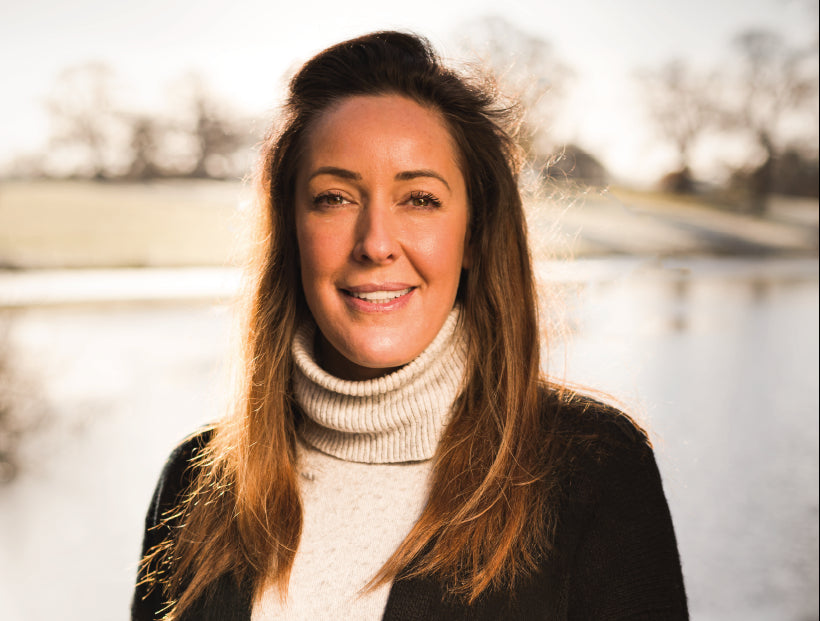 Leah Mullard has recently joined the Wild Beauty Team as Head of International & UK Sales. Having worked in the beauty industry for many years, including 10 years in Dubai, Leah knows a lot about skincare! We caught up with her recently on a visit to Rhug Estate.


Welcome to the Rhug Wild Beauty team!  We are delighted to welcome you to the Rhug Estate in North Wales – tell us your first impressions.


Thank you – I'm so happy to be here! Prior to my visit, I had seen footage of the estate on social media as well as on the recent television shows we have been involved in, but I was in for a real treat when I first arrived. I have been blown away by the natural beauty of North Wales and Rhug Estate.

Richard, Wild Beauty's forager, took me on a tour showing me all his favourite spots for picking the organic ingredients for Wild Beauty. I was surprised to see how diverse the land is across the estate running from the mountains to the valley. We picked rosehip berries and meadowsweet in the valley between the rivers Alwen and Dee, which is such a beautiful spot in the heart of estate. We then climbed up the moorlands on the Berwyn mountains to the estate's highest point, gathering (and eating!) bilberries - the very ones that we use in our new Deep Cleansing Balm as well as dandelion leaves which go into our Nourishing Eye Cream - the views looking down on the estate are out of this world.




I spent the day wondering why I hadn't been to the Welsh countryside before. After living the last 10 years in the desert in Dubai, I really enjoyed seeing all the greenery!



What does Wild Beauty mean to you? 
Wild Beauty to me is an honest brand that has been born out of Lord Newborough's passion for sustainability and the highest-grade organic ingredients and not just because it's on trend. You can really tell when you use the products, just how much love has gone into them. You can certainly see how much the land is nurtured when you visit this special place where the products begin.



What is your favourite Wild Beauty product and why? 
I'm addicted to the Deep Cleansing Balm - the natural fragrance from the verbena, bilberries and rose otto feels like a mini spa treatment when I use it each day! Being completely honest, since I've been using the full range I have noticed an improvement in my skin which is no small feat at 44 - it looks more plump and hydrated.


Sustainability is of course a key part of our brand. What does it mean to you?


To me it means caring for our land and leaving it in a better state than we found it. Using products which contain organic ingredients which have transparent provenance is hugely important.  In turn these products are not only good for us but also for our planet. Using a diverse range of natural and organic wild ingredients requires biodiversity of wildlife habitats and organic farming which is one of the pillars at the Rhug Estate.



Can you tell us about anything coming up with the brand this year?
We are currently working on some exciting new launches for this year which will extend the collection for different skin types and include the use of some of the other wild plants, berries, herbs and seaweeds that grow naturally on the estate. You will be able to find Wild Beauty in more locations this year too such as Fenwick stores in the UK as well as retailers across Canada, USA and the Middle East!


What do you enjoy most about your new role at Wild Beauty?
For me to be part of such a passionate team who work so hard to nurture and grow their brand is inspiring. Lord Newborough is dedicated to launching the most effective natural products with the highest certifications and this really resonates with me. The monthly visits to the estate to reconnect with nature (and the team) are something I look forward to also!



How do you find balance in your life?
I think when you do something for work that you truly enjoy and believe in, it feels less like work and more a lifestyle choice. When I come back from busy international trips setting up our new retailers, I enjoy resetting by going for a long walk in the beautiful Surrey Hills which are on my doorstep. However, I still find myself thinking of Wild Beauty when I spot plants and berries that remind me of Rhug.